Knee to Knee with a Refugee Family
By Alex Bender
,
Sep 15, 2016
Athens was never a part of my plan, but I am so thankful that it was always a part of God's plan for me. Six months ago, confined within the walls of a Middle Eastern geography class, I had no idea that I would love and cherish the people I saw in their fragile life rafts cast upon the projector screen. But God did, so he sent me to serve as an intern for two months in Greece, a country burdened by an economic crisis and overwhelmed by an influx of refugees from the Middle East and Central Asia.
While on the field, our team of interns assisted with a refugee center program. This center is a place where refugee women can come drink tea, have a safe place for their children to play, and feel human again. As proselytization is illegal in Greece, the refugee center's mission is centered around showing the gospel by simply loving people where they are and serving them in the midst of their hardships. While working at the center I had the honor to meet some truly wonderful individuals, but there is one family in particular that now holds a very special place in my heart.
Though I worked primarily in the children's playroom, I always noticed this one Afghan family who sat in another room, sipping quietly on their chai and eating their biscuits: a mom, a little boy of about 10, a young girl, and her sister—a girl about 14 years old who was confined to a wheelchair.
One day, I was volunteering at a women's conference in a local church plant when I saw this same family walk through the front doors with one of the workers from the refugee center. My heart filled with excitement, and I immediately ran up to the family and embraced them, greeting them with the little Farsi I knew. For the remainder of the night the five of us were inseparable. The little boy spoke the most English of the group, and I was able to explain to him what the presenter of the conference was saying. This was Ramadan—the month in which Muslims fast from sunup to sundown—so after the presentation I was able to break the fast with the mother of the family. They became so joyful over the mere sight of fruit, which they were not given in the refugee camp.
During this time the family excitedly shared with me about their life in Afghanistan. The mother and even the children used to weave carpets by hand. They showed me the ornate details in their artwork and small scars on their delicate fingers from hours of tireless work. When I told them how valuable and special their craft was they blushed, unable to believe that someone would so highly value something they'd created.
They also shared their heartache with me, handing me a newspaper clipping which detailed their story. The article told of how, when they were leaving Afghanistan, the young girl in the wheelchair had asked to be left behind because she knew the journey would be more difficult for her family to make with her. But her father refused to let this happen and carried her on his back from Afghanistan. With sadness in their voices and tears trickling down their cheeks they told me that they just wanted to go to Germany.
The teenage girl then pulled out their near-broken phone and showed me a photo of a painting she had created. In the painting, she was no longer sitting in a wheelchair but standing. The girl's arms were bound in shackles behind her, with the European Union symbol to her left. Barbed wire was painted on the horizon, and darkness lay just beyond. The girl wrote a poem to go along with this picture.
The poem reads: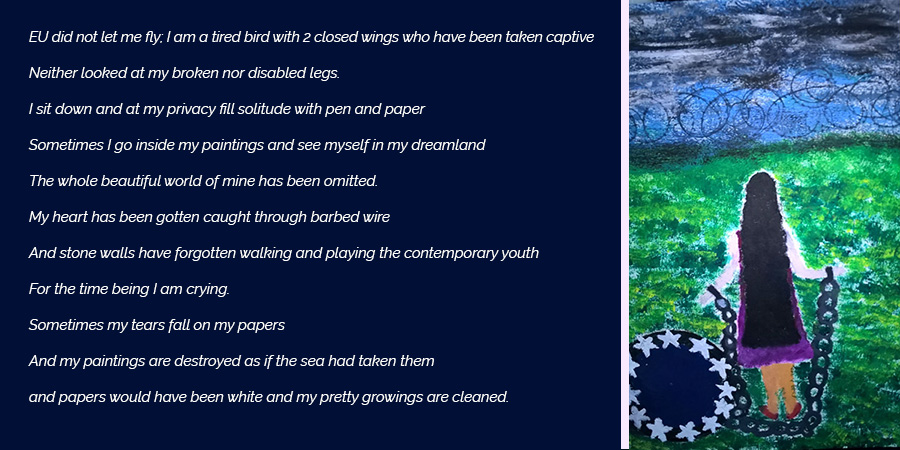 After giving me this piece of her heart, the girl began sobbing, and I held her in the middle of that crowded room, people chattering and clamoring away about their day to day lives without even noticing what was happening. It was heartbreaking, but it was also incredibly beautiful.
In that moment the Church was fulfilling the purpose for which God intended it. The gospel is not for people who have all the answers. It is for the hopeless, the lost, the weary. It is for the refugees of this world. The gospel is for this family. It tells them not to believe the lie that the world has told them. Christ whispers softly in their ears that they are loved, precious, and they are made in His image.
I held someone hurting and showed them I loved them and thought they were important. My job in Greece was not to convert the masses, it was to love people right where they were. Christ called me to Athens to plant seeds, not to harvest, and hopefully the next time I break fast with this family it will be at our Father's table.
Alex Bender served as an MTW summer intern in Athens, Greece. She is a senior at the University of Mary Washington and is majoring in geography with a concentration in community, development, and culture. After graduation, Alex would like to pursue a career in missionary or non-profit work.
Hi there! We use cookies to help our website function properly and to understand how visitors interact with it so that we can keep making it better. By clicking "accept," you are saying this is okay with you. If you'd like to know more, please read our privacy policy.
Pray for refugees in Athens, Greece, as they overcome trauma and begin a new life. Pray, too, for the missionaries and church community ministering to them.
Pray for a small church in Athens, Greece that is reaching out to refugees with the love of Christ. Pray for the refugees there to hear the truth of the gospel.
Pray for ongoing work among refugees in Greece.
Pray for the people of Mati, Greece, who are responding with spiritual openness following disaster response efforts of the Greek Evangelical Church and MTW.
Pray for those impacted by the deadly wildfires in Greece. Pray also for wisdom as a team assesses how best to help.
Pray for the growing Business as Mission work through the Glyfada Church Plant in Athens, Greece.
Pray for effective discipleship and evangelism in the church plants in Athens, Greece.
Pray for the six church planters and the entire church-planting movement in Athens, Greece.
The First Greek Evangelical Church has planted a church in Exarchiea, the anarchist capital of Greece. Pray that God's presence would became known there.
Pray for college students to participate in global missions. Pray that they would a catch a vision for missions that would stay with them long term.
SUBSCRIBE TO STORIES & MORE
Good news in your inbox, once per week. 1600 North Brown Rd
Lawrenceville, GA 30043
United States
1-678-823-0004
[email protected]
Donor-Advised Fund Portal
Circle Portal