An Incremental Journey: From Interns to Long-Term Missionaries
By Andrew Shaughnessy
,
Oct 29, 2019
It was 2010, and John and Julie Bowles were at a crossroads. John had been working full time as a graphic designer in Atlanta, Julie had just graduated from a master's program, and they were ready for a new adventure. As they prayed through what God might have next for them, they began to consider cross-cultural missions.

"We didn't really know where we wanted to go," said John. "But we wanted to see what a missionary's life was like, so we called MTW."

Taking into account their personalities, interests, and goals, MTW matched the Bowles to a two-month mentored internship in Bangkok, Thailand. There, the couple dove headfirst into the team's work with a church plant: youth outreach, college ministry, and in their words, "a little bit of everything."

Over the course of their summer in Bangkok, John and Julie fell in love with Thailand. They loved the people, the food, the way they could relax and laugh even in this new, complex culture. Simultaneously, God impressed on their hearts Thailand's deep need for the gospel. "This is a country that's less than 1% Christian," John explained. "There are so few churches. ... And the culture isn't hostile to the gospel. The door is open and the need is there, so why not go?"

All along their journey, John and Julie were mentored by Tim and Rhianna Mills. The veteran MTW missionaries gave the Bowles a picture of missionary life that was less dramatic than what they had imagined, but also much more sustainable.

"I think everybody has this crazy picture in their head of what missionary life is like," said John. "You know, living in the slums, ministering like Mother Teresa, suffering. ... But with the team in Bangkok, during the day you'd be sweating it out, but then at night you'd go back home and have a casserole."

The Mills were clearly making disciples and impacting their community through the church, but they were also doing life well.

"We could do this," the Bowles thought.

Missions ... with a twist
When their internship concluded, John and Julie came back to the U.S. They went back to work, had their first child, and returned to their normal, American life. But they couldn't shake the call to missions. Within a year, they had applied to serve through MTW's two-year program with MTW Bangkok, but with a twist on the traditional model for missions. Though they still raise financial and prayer support from churches in the U.S., John works full time as a graphic designer for a secular Thai design firm in Bangkok. His salary offsets the total amount of money they need to raise, and his job offers countless opportunities for evangelism and building organic relationships with his non-Christian colleagues.

"We're part of the church plant that MTW is starting in Bangkok, but in a very similar way to how someone may be part of a church plant in the U.S.," John explained. "Maybe you serve in different capacities like teaching Sunday school or leading a Bible study, maybe you serve in a leadership role, but you're not actively involved in the strategizing and day-to-day workings of the church. But you live and work in your city. You have relationships in that city, and you invite your friends and networks to church. You're intentional about it."

For John, those relationships come most often at work. For Julie, those connections often form with their neighbors or through parenting groups at their kids' school. She describes their role as that of a bridge between the church and the activities or organizations they're naturally involved in.

"A lot of the people at our church are young professionals," John said. "Bangkok is a massive city and it pulls people from all around the world—Malaysia, Singapore, and Indonesia—to work for international offices. Our [Thai] pastor is encouraging more people to just come and work in Bangkok and be part of the church."

The invitation is always there
John and Julie's journey to becoming career missionaries wasn't rooted in a single dramatic moment or a lifelong calling. Rather, it was a slow, step-by-step process of following the Spirit's leading in faith. They served first as interns, then made a two-year commitment. When their daughter was born in Thailand, they extended to a third year. By the close of year three, they decided to officially transition to long-term missionary service.
"There were no light bulb moments or lightning bolts for us," said Julie. "Just baby steps."
"Over the course of our lives, God has encouraged us to go into missions in different ways—through different people, experiences, seasons of life," John explained. "Those moments, those relationships, were pushing us toward something. I think God used them all to prepare us to go."
"The invitation to go is always there," he added. "It's basically just whether or not you want to accept it. ... You've got the green light, but it's up to you to go."
Ready to get a taste of missions through a vision trip, a mentored internship, or mission trip? Or maybe you're ready to go longer-term. We have lots of ways to serve. Visit mtw.org/serve.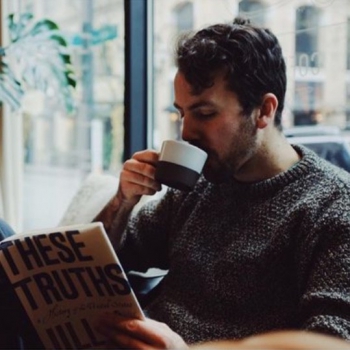 Andrew Shaughnessy is a long-time word slinger who spent nearly six years as MTW's staff writer, gathering and telling impact stories from missionaries across the globe. These days, he's off working as an analyst and editor in the publishing industry, writing fiction, and mountaineering. He holds a B.A. in history and English literature from Covenant College, and an M.S. in political science from Portland State University.
Hi there! We use cookies to help our website function properly and to understand how visitors interact with it so that we can keep making it better. By clicking "accept," you are saying this is okay with you. If you'd like to know more, please read our privacy policy.
Pray that God would draw college students to serve on internships this summer.
Pray for young believers growing in their faith in Bangkok, Thailand, and that many would be drawn into the church.
Give thanks for the work God is doing in South Asia in the wake of COVID lockdown relief. Ask God to grow the new believers who came to faith in Christ as a result.
Pray for the national pastors serving in Mexico and Cuba, many of whom are bi-vocational, and the work God is doing among them.
Pray for Tim Mills (Thailand), Abi Lowther & Roger Lowther (Japan), Joe Congdon (Japan), and Shannon Hinkle (Australia) as they all use their artistic gifts to support the Church in gospel outreach, mercy ministry, and community building.
Pray for the people of Mati, Greece, who are responding with spiritual openness following disaster response efforts of the Greek Evangelical Church and MTW.
As the Thai people grieve the loss of their king, pray that many would seek out the true King. Pray for MTW churches as they reach out in love to the Thai people.
Pray for those in Thailand who are resistant to the gospel because "to be Thai is to be Buddhist." Pray they'll see that they can embrace the gospel and still retain their culture.
Pray for women forced by poverty into sex work. Pray for MTW ministries around the globe seeking to rescue and minister to these women.
New believers are getting baptized! Pray for the growth of new Christians at Grace City in Bangkok, Thailand, and for those coming to faith and getting baptized.
SUBSCRIBE TO STORIES & MORE
Good news in your inbox, once per week. 1600 North Brown Rd
Lawrenceville, GA 30043
United States
1-678-823-0004
[email protected]
Donor-Advised Fund Portal
Circle Portal